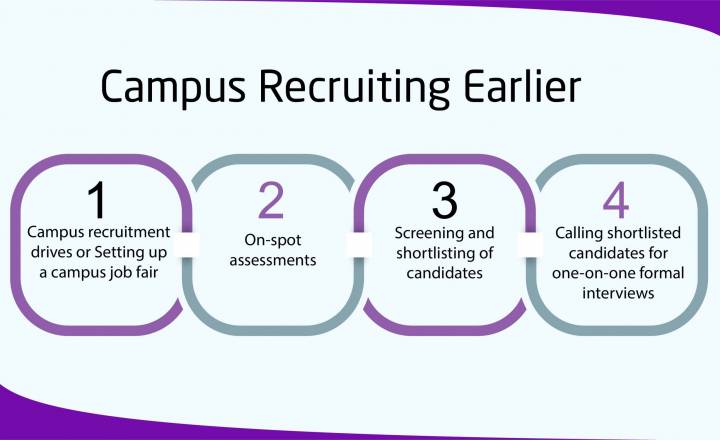 Campus placement is an extremely significant event in the life of a student whose graduation is nearing because it gives them a great chance to grow from novice to professional. If you are going to an interview for a campus placement, putting all of your efforts into developing a robust strategy that will help you succeed in the interview is a great way to avoid getting too worked up, claims the essaywriterhelp expert. So, let us take a look at the entire campus placement process so that you get a better idea of how you can prepare yourself.
What is a Campus Placement?
Campus recruitment or placement is a recruiting program conducted in colleges and universities for providing job opportunities to students who are about to graduate. Typically, colleges partner up with companies and corporations who look for fresh talent and visit college campuses for conducting the recruitment procedure.
The main objective of this program is to identify and employ an efficient and competent workforce by giving opportunities to students. Upon selection, these candidates are given further training as per the organization's requirements.
One huge advantage of campus recruitment, according to https://penmypaper.com/write-my-essay. is that it saves a lot of time and effort on students' part to search for their desired job or look for job opportunities. Students are exposed to new wonderful opportunities for excelling in their chosen field right after they complete their course.
Campus Placement Procedure
Pre-Placement Presentations
The pre-placement presentations are the first step in the campus placement process. Multimedia presentations that cover a variety of topics, such as the business environment, products or services, work culture, and market share, are staged by organizations applying for campus placements. During these pre-placement presentations, potential professionals learn about the responsibilities they will face and the salary they can anticipate. Additionally, candidates can participate in interactive sessions where they can ask representatives of the company any questions they may have.
Eligibility Evaluation
Criteria Matching is the second step in the campus placement process. Here, candidates are evaluated based on their qualifications and other recruitment criteria set by the employers. At this point, only candidates who meet the organization's requirements will be invited to a campus placement interview. Be sure to approach businesses that show interest in your education stream because campus placement initiatives cover multiple fields.
Aptitude Test
If you meet a company's hiring requirements, you will be asked to take an aptitude test. The type of test you take typically depends on the position you are applying for. For instance, the Wheebox Employability Test for Graduates is the standard aptitude test for engineering placements. The applicant's coding, mathematical, problem-solving, and communication abilities are evaluated on this test. Similarly, there are various examinations for various fields, and there can be technical rounds as well.
Group Discussion
In a group discussion, candidates are given a topic on which to debate during the general discussion portion of the campus placement drive. Candidates are evaluated based on their subject knowledge, public speaking skills, level of confidence, and leadership abilities once discussions begin. Before attempting the GD round, learn about the most recent developments in your field because industry-specific news frequently comes up, suggest online assignment makers.
Formal Interview
You can think of a formal interview as your job interview because it is the final stage of the campus placement process. This is far more professional and is the most significant stage of the process. Candidates will have a face-to-face communication with the company representatives. This round is crucial as it determines whether to move forward with a candidate's application or not.
Post-Placement Discussion
If you pass the formal interview, you will be invited to a post-placement discussion and an offer letter. You will be instructed on the joining procedure and given guidelines. You will also be informed of any additional essential information.

Amelia Earhart is a passionate writer and the founder of Technomaniax. I loves to write principally about technology trends. At Technomaniax.com, I loves to share my opinion on what's happening in tech around the world.