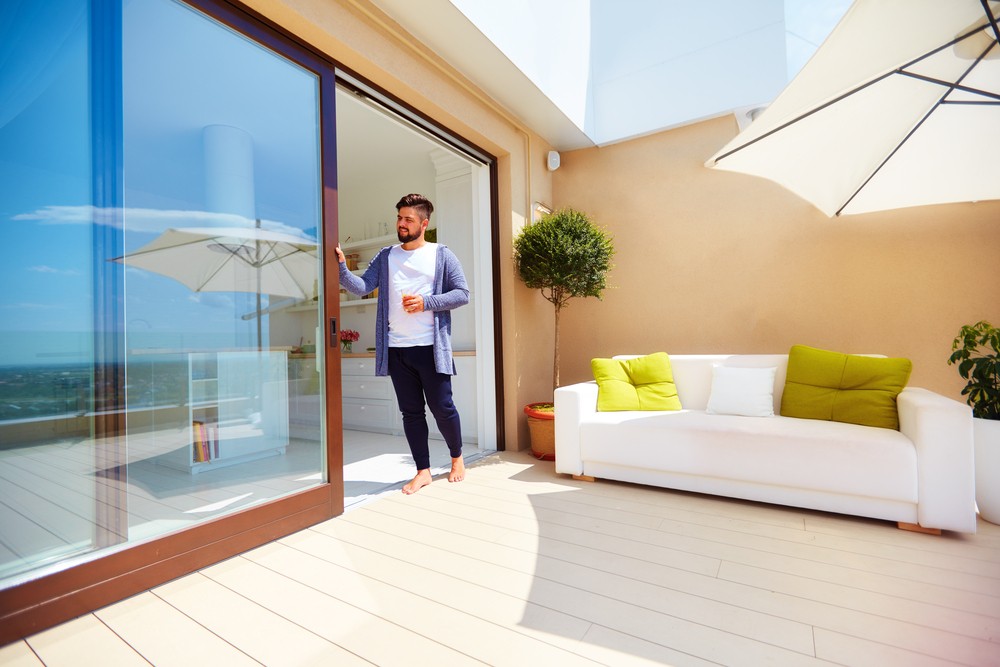 Picking the right door for your patio or balcony can significantly affect how you use your home. Moreover, it will also give your abode a whole new look and feel. The perfect door for your patio can help you in hosting a bunch of house parties, creating an illusion of a bigger space, connecting the indoors with the surroundings of the home, and enhancing the overall quality of life.
The right door design should be both aesthetically appealing and easy to use. And this is the reason why people, these days, prefer sliding doors for their balconies, patios, and other external areas.
Sliding doors have become one of the most sought-after door options for patios. With two or more door panels placed within a metal frame, sliding doors offer a minimal design and ease of access. However, lift and slide doors are all the rage these days. So, if you are planning to get a unique design for your patio doors that offers all these benefits and many more, lift and slide doors would be your best pick. But before diving into the numerous perks offered by lift and slide doors, here is an overview of what lift and slide doors are:
What are Lift and Slide Doors?
Lift and slide doors mainly comprise three basic components, namely the roller, the track, and a door handle. The rollers glide across the track, and the door handle mechanism helps in locking the door securely. This is done by lifting the handle of the door in an upward or downward direction.
By lifting the door handle, you will be able to raise the door onto the rollers, which will allow seamless operation and offer easy ingress and egress. By pulling down the handle, you will be able to seal the door, and the rollers will come off the track, making the door immovable and thus enhancing security.
Panoramic Views
There are several reasons why you love your house. Most probably, the surroundings of your home are one of those reasons. So, why not make the most of those surroundings by picking a door design that offers you expansive and unobstructed views! Lift and slide doors have larger glass panels and slim sightlines, which offer amazing views of the outdoors. So, installing these door frames on your patio or balcony will help you wake up to the stunning vistas and witness the beautiful sunrise right from your home.
Abundant Natural Light
Talking about sunrise, these door design also offers abundant natural light to enter your home and brighten up your place instantly. While the sunshine will make your room feel a lot more spacious and illuminated, you will also be able to benefit from increased vitamin D and thus leading to a healthier lifestyle. Moreover, natural light is also proven to boost your mood and even improve your attention span.
Improved Ventilation
Thanks to lift and slide doors' large glass panels, you can now benefit from enhanced ventilation in your home. Moreover, you can also control the amount of air entering indoors by sliding the panels slightly.
Effortless Operation
Someone looking for a way to create an effortless path between their indoor and outdoor spaces, lift and slide doors are a great pick. A simple slide across the track can open up the panels completely, allowing you to seamlessly merge both areas. This is because these doors do not have hinges that fold and swing.
Energy Efficiency
One of the most significant benefits of installing lift and slide doors is that they offer improved energy efficiency. The mechanism of these doors does not allow the panels to slide open unless the door handle has been lifted. This feature ensures that the doors are sealed properly when the door handle is pushed down, offering high energy efficiency. The doors are thus airtight and also draft free, which helps maintain the temperature indoors. Not to mention this can also help in decreasing energy bills considerably.
Conclusion
No matter in which city you are residing- Mumbai, Hyderabad, Chennai, uPVC door designs like lift and slide frames for your patio can help you lead a much more comfortable lifestyle and avail some fantastic benefits.