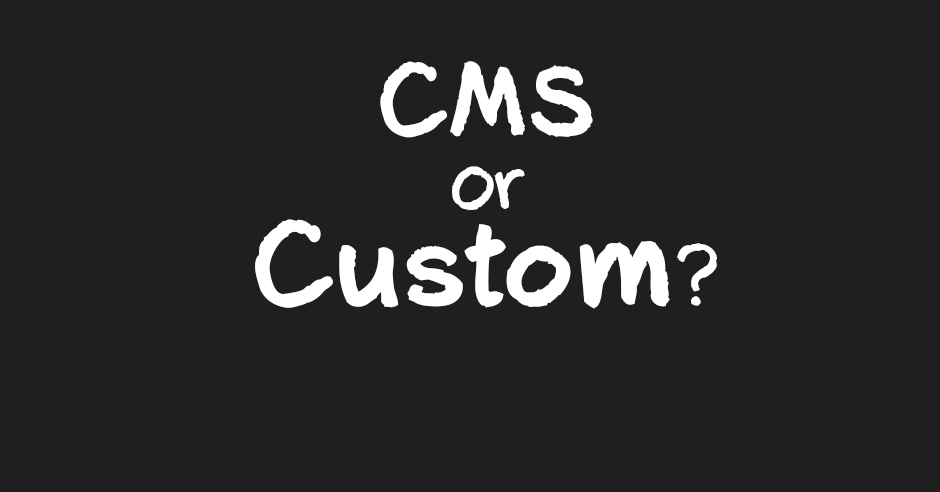 There are many pros and cons to both WordPress as well as custom websites. Most businesses, entrepreneurs, and startups are confused about which path best suits their individual goals and needs. In this article, you will learn the differences and which option is best for taking your business to the next level!
Both are a great blessing, whether a customizable website or a CMS platform. Beginners and amateurs can enjoy their time creating their websites using any of these. Many startups, physical stores, and corporate building businesses tend to opt between these two options. The best part is that you don't require programming skills to create them. Although these both have great features to mobilize your online business to the next level, the singling out part is a bit challenging.
WordPress is an excellent example of a CMS website. In fact, it is the primary power source that runs content management systems efficiently. Shopify, Drupal, Joomla, OpenCart, and Magento are other excellent options in the CMS category. Even though the latter options are flexible and have an abundance of user-friendly features, WordPress CMS websites are the best. Bespoke websites, on the other hand, are your regular websites. But they're entirely built on your wishes – and expectations.
Today, we will enlighten you with Custom Web Development Company and affirm that it's the best choice ever. However, a CMS platform is ideally easy to use with a more freehand approach. However, tailored websites are like "dreams come true." You see every iota of your ideas come to life through these websites.
Our blog will try to convince you that customizable websites are way better content management system platforms. However, you can choose CMS web development if you want a pure content-based experience. But most importantly, we will brief you about these advantageous website modules. So, let's begin now!
WordPress for CMS Websites
A Content Management System is a non-propriety software with various open-source tools available for free. Though you might want to acquire some premium features with cash, it's hardly a top dollar. You only pay a nominal fee to unlock some great CMS website plugins. Content Management Systems are known for their flexibility and effortless content publication online. Users can easily add, create, edit, manage, and upload their brand word-based works on the internet. Overall, CMS websites facilitate people to publish content on the internet with no "coding" strings attached.
1. Responsive WordPress themes
At its inception, it was a luxury for bloggers to create, edit, and organize their blogs. But who knew that one day, this same WordPress would become an all-inclusive web development entity? Its simple interface and user-friendly dashboard have made it popular among laypersons and programmers alike.
Its code-free functionality led it to its global popularity. And it was high time for WordPress officials to release numerous website themes. Surprisingly, around 40% of all the websites in the world are built using WordPress. Many big names are on the list, which makes WordPress a great choice, even for a custom-built website. Yes, you heard it right. The New York Times, IBM, Microsoft News, BBS America, Sony, Forbes, The Walt Disney Company, TechCrunch, PlayStation, and GM are just a few examples.
Click here to check out some great WordPress themes for your website. You can also select your favorite plugin out of a great variety. These are like features, but you must download them from external websites. WP Bakery Page Builder has around 4,300,000+ hits. Other options include Visual Composer, Themify, Brizy, and Thrive Architect. Elementor is excellent if you're looking for design and editing tools. Shopify and WooCommerce, on the other hand, propel eCommerce businesses to new heights. Yoast is also a great WordPress SEO plugin that helps you optimize your content for better web page rankings.
2. Personalized WordPress Themes for Custom Websites
If you cannot find a suitable theme for your website, don't worry. Remember never to pick the off-beam one that doesn't suit your brand. You can always hire a WordPress website agency that can create your best bespoke website in no time. The in-house professionals will tailor each web page to fulfill your branding needs.
Additionally, you can also request specific web pages for your website like product listings, search bar, bookings, blog page, portfolio, etc. Programmers also provide custom coding, so you don't require other intricate code supervision. You can trust Web Verse Inc. with your eyes closed, as we only offer premium versions of WordPress plugins. We also provide the best WordPress security patch iThemes for your website. So, what are you waiting for and halting your best decision ever? Hire the best web designers and get your custom website done with the best WordPress features.
Which one to choose: Custom or CMS website
Besides WordPress, buying a custom-built website is a good option. It's like a regular website that is built on a coding framework. However, it's not easy to use as a WordPress website. It would help if you were well-versed in programming or had elementary coding knowledge. Remember, creating a custom website means starting the process from scratch – on a blank web maker software. Check the best ones here if you want to skip WordPress this time.
1. Better Security options
Even though there is an infinite number of WordPress themes and plugins, custom websites offer sufficient website security options. It is undoubtedly the biggest benefit you get from a bespoke website than those numerous WordPress web builders. Besides, a well-planned website developed with careful coding is far better than open-source WordPress websites. The latter is more vulnerable to viruses, data theft, and other cybersecurity threats.
Also Read: The Secret To Flutter For Business Is Revealed
Custom Website Wins!
2. SEO-friendly
Since WordPress is the OG of content here, we all know how much Google loves content. So, without a second thought, WP internet sites have the upper hand over personalized websites.
WordPress Website Wins!
3. High Performance
Since custom-built websites use different programming languages like JavaScript, C++, Python, HTML, CSS, and others, they are more efficient. On the other hand, WordPress websites use third-party plugins to enhance performance. Hence, they are more prone to functioning halts and other usage inadequacies. Nitro Pack and WP Rocket are two incredible WP website boosters to help you make a victory sign. But at the end of the race, customized website outperforms WordPress platforms.
Custom Website Wins!
Conclusion
Choosing between a WordPress website and a custom website is like picking a Kit Kat or a Snickers. Both are so irresistibly indulging that your hands are lopsided for a Bounty bar, chocolate coating over exotic coconut. Hence, it is loud and clear that custom WordPress websites are the best option at present.