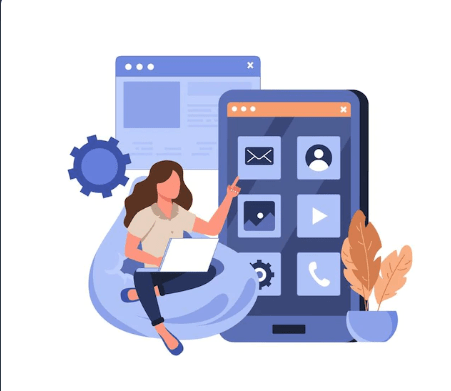 What comes to mind when you hear the word "super-app?" Do you imagine an app that consumes huge resources and storage on your mobile device? Well, that's not what super apps are.
The super app is packed with features and functions that combine the experience of multiple apps into one. You can call it an all-in-one app. The idea of ​​super apps excites techies, non-techies, and entrepreneurs. "Super App" is searched an average of 1000 to 10000 times every month. Different people look for super apps with different mindsets. The general audience wants to know more about the Smart app, while entrepreneurs are looking for information on the super app development.
In this article, we will help you understand super apps and super app development. From history to market analysis and challenges, we'll explore everything you need to know about the super app.
Understanding the Super App concept
A super-app is a mobile or web application that brings the power of multiple applications into one. Customers can use the smart app for various services such as payment processing, e-commerce, ticket booking, communication, gaming, and more. There are notable examples of super-apps where Tencent's WeChat in China has gained a good market in Southeast Asia. Serving 1.2 billion users worldwide, it supports the growth and potential of super apps. We will look at the examples in detail in the following sections. But let's understand the history behind the advent of Super Apps.
How was the term Super App born?
In 2010, Tencent developed WeChat with the motive of creating an instant messenger for people in China. When the mobile app reached a customer base of 200 million users, the company began to diversify its services by adding social games, mobile payments, and a digital wallet. By 2014, WeChat added E-commerce, making it a full-fledged application. And by 2017, this app won the title of "Super-app".
What is the difference between standalone and super apps?
The difference between standalone and super apps is clear. Separate apps like Skype and Spotify are designed to fall into one category: Skype is a messaging platform and Spotify is a music streaming platform. Similarly, banks and gaming apps are designed to fulfill the basic function of financing and playing games. While in a super app, the app can offer all the services offered by the above-mentioned categories i.e. communication, music streaming, banking, and games.
Main features of the super app
Multiple elements from different industries make a super app "super".
Social: Social communication has become an integral part of human life. And the form of communication has massively shifted to the digital world. The smart app includes communication features where users can send text messages and share media and users around the world.
E-commerce: People buy products and services online, which makes the entire purchasing process easier and continental. The super application enables users to perform e-commerce activities smoothly.
Food Delivery: In the super app, users can order food online and have it delivered right to their doorstep.
Transport and travel: On-demand taxi services are gaining the market and the super app allows users to book taxis, air tickets, and train tickets.
Banking and Finance: With super apps, users can make financial transactions using the main features of the banking app. They can also take out loans in the app.
Billing and Health Services: The healthcare industry is actively taking advantage of the digital mode of operations. With super apps, users can pay different types of bills and receive health services such as health calls, general health information, and more.
Benefits of super app development
Businesses are eager to enter the world of digital business through mobile applications. And super app development is one of the great ideas to succeed in the app market. Here are the benefits of super app development.
A super app gets a very wide audience base with reduced risk because one of the key areas is to attract the user base.
The super app provides a faster login process as users only need to log in once and are open to the huge number of services that the super app offers.
With more features in the same app, super apps attract more customers and provide more business growth.
A super app offers wider customer engagement as you attract customers from different industries.
Best super apps in different regions
Now it's time to mention some of the famous apps from different regions. We'll cover the top super apps in the UAE, US, UK, and India to get a better insight into your key competitors.
Super app in UAE
Careem: With Careem, the super app in the UAE, customers can book rides, recharge their mobile phones and make online payments in a single app.
Shopping at noon: A one-stop shopping destination. Customers can buy various shopping items from food to clothes with the support of convenient cards in the app. Customers call Noon shopping the super app in Dubai as it adds another industry.
Talabat: The super app Talabat in the UAE is one of the fastest-growing super apps that covers food delivery and groceries together.
Super app in the US
Amazon: Amazon, the super app in the US, offers users e-commerce, food delivery, and payment options.
Facebook: A super app in the US that combines the power of social communication and the marketplace and brings a variety of features.
Revolut: A super app connecting the world of finance, transfers, and trading. Users can trade, send money to their friends and family, and join cryptocurrency exchanges, all in one app.
Super UK app
Yandex Go: Europe's first super app, Yandex Go combines shipping and in-flight delivery functions in one app. Customers can also order food from the app.
Uber: Uber has announced the launch of a project in the UK where customers can book travel on planes, trains, and buses directly in the app. The app is diversifying its focus from taxi booking to more industries.
Alipay: A super app designed to bring payments, finance, taxi booking, and food ordering all in one app, bringing a super experience to users.
Super app in India
MyJio: A super app in India that brings various features like shopping, games, healthcare solutions, UPI, chat, and much more.
Tata Neu: A super app with 2.2 million downloads brings hotel bookings, travel bookings, food orders, and loans to customers right in one app.
Paytm: The super app in India loads users with travel, movie, and travel ticket booking, card and loan payments, shopping, and many more features.
Now that we understand super apps as a concept. Let's examine the market statistics.
Mobile App Market Statistics
Before launching super apps, it is good to understand the mobile market statistics.
In 2021, reports indicated that $143 billion customers will spend 3.5 trillion hours on 218 billion downloads.
Mobile apps have surpassed TV, where mobile ads will see a $290 billion investment in 2021.
Super Apps Market Statistics
We're talking about super apps by region:
Super apps saw $51 billion in revenue in Russia in 2020. And the market is expected to grow by 163 percent by 2025.
67% of US users are interested in taking advantage of super apps.
UAE-based super app Careem has already crossed 48 million users.
UK consumers trust Paypal's super app more than banking apps.
74% of consumers showed interest in super apps.
Super apps undoubtedly promise a super future if businesses choose to develop super apps that appeal to a wider customer base with diversified services. But are challenges included?
Challenges facing super app development
With super profit, features, and customer base comes super challenges in developing super apps. The overall process is time-consuming and full of many challenges. Let's find them out.
Super apps cost more
To create a super app, you need to have your capital ready. Lots of features and functions cost more than the regular app because the super app covers different industries.
Effective super app development company or team
You need to look for a top mobile app development company in Houston that is also known as a top super app development company in Houston. This means they have to be super-efficient with their IT infrastructure to build different features.
Massive API integration
Top payment gateways to security APIs, the super app will integrate a huge number of APIs. The IT team must be competent enough to have expertise in various Payment API integrations.
Challenging UI UX design
The super app has several pages in the app. Each service opens a different set of pages and brings a variety of features and functions. So it's hard to create a clean and user-friendly UI design for a complete super app.
Tech stack for Super App
A massive smart application will need to use numerous technology stacks to ensure smooth operation, integration, and performance. There is no fixed technology stack for developing super apps, but you may need to use Rails, Java, Scala, Python, Maria DB, and many others to connect the nodes. Make sure you choose the right language, frameworks, tools, and processes.
Marketing challenge
Since a super app has a diverse set of features working across multiple industries, you need to create a strong strategy. You need to market the app on different platforms to attract the attention of the audience from different industries. Even if the user is trying to use one of your features, you need to reach them.
Businesses must get serious about creating a robust mitigation strategy. Now that we've noted the challenges, is it time to talk about how to monetize your smart app?
Monetizing your super app
So you provide a number of functions and features through your super app, but how will your business make money from it? There are several ways to monetize your super app.
Credit system: Super app generally includes financial and credit functions. You can provide in-app loans to users to make purchases and other activities in your app. You can charge them interest accordingly.
Cross-border payments: You can charge fees when users send a payment to different countries.
Ads: You can place online ads in your app, but make sure it doesn't affect the user experience.
In-App Subscriptions: You can offer in-app purchases where users can get discounts and offers if they are subscribers.
Above are some strategies to monetize your super app, but there could be more. You can conduct market research and identify the monetization strategies of other competitors. After reading the big piece, you must be interested in the cost of developing a super app.
What is the cost of super app development?
This is a popular question that everyone thinks about when deciding on mobile app development. As super app development is a time-consuming process full of challenges, the cost of super app development is definitely higher than just a basic or average app. It is not possible to comment on mobile app development costs in numbers as it depends on your requirements. Every new feature you add will cost you money, so it is better to consult a top super app development company in Houston.
Final words
Developing super apps is a complex project, but complex projects bring huge revenue and growth to the company. Super apps are definitely not like standalone apps as stated in the article. Make sure you include multiple elements or most elements to make your smart app count as an all-in-one app, bringing elements from communication to travel to banking. The market for super apps is undoubtedly promising, so if you are planning to develop super apps, it is right to start development. But before you build an app, make sure you research your competitors and their marketing strategy. Also, ensure you create strategies for super app development challenges.