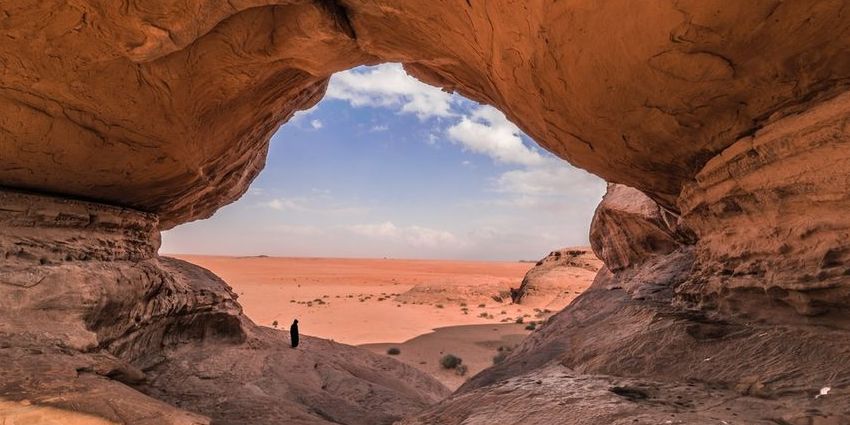 Saudi Arabia is a land of contrasts, blending ancient history and modern architecture, deserts and seas, spirituality and adventure. The country has opened its doors to tourism, revealing to the world its stunning landscapes, historical landmarks, and rich cultural heritage. Traveling around Saudi Arabia can be a unique experience, and renting a car can make the journey more personalized and convenient. We recommend using Bookingautos for an easy car rental process. Specifically, if you're landing at Jeddah Airport, take advantage of car rental services right there by visiting this link.
Riyadh: The Capital City
As the political and financial epicenter of Saudi Arabia, Riyadh is a blend of modernity and tradition. The city is filled with skyscrapers, including the iconic Kingdom Centre. For a panoramic view of the city, head to the Sky Bridge on the 99th floor. Those interested in history should visit the National Museum and the King Abdulaziz Historical Center to delve into Saudi Arabia's past.
Jeddah: The Coastal Metropolis
Jeddah, often considered the commercial capital of Saudi Arabia, is a city that never sleeps. Located on the Red Sea, it offers a vibrant coastline where you can indulge in water sports such as snorkeling and scuba diving. The Jeddah Corniche is perfect for evening strolls. Don't forget to visit the King Fahd Fountain, the tallest fountain in the world, and the historic district of Al-Balad, a UNESCO World Heritage site.
Al Khobar: The Hub of Adventure
For adventure junkies, Al Khobar is the place to be. With numerous water activities, including jet skiing and paddleboarding, it's a haven for outdoor enthusiasts. The Half Moon Bay is popular for family picnics, and the Coral Island is perfect for snorkeling and exploring marine life.
Al-Ula: Gateway to Ancient Civilizations
Al-Ula is a treasure trove of archaeological wonders. The Madain Saleh, a sister city to Petra in Jordan, is a site you can't afford to miss. These ancient tombs are carved directly into mountains, and their awe-inspiring architecture makes it a UNESCO World Heritage site.
📚 Learn more about Madain Saleh on Wikipedia
Najran: The Archaeological Wonder
Najran is often overlooked but is rich in historical importance. The Al-Ukhdood archaeological site contains ruins dating back to the 7th century and offers an insightful look into the country's ancient civilizations.
Abha: The Green Paradise
If you're looking to escape the heat, head to Abha in the Asir Province. The cooler climate and green landscapes make it ideal for outdoor activities like trekking and camping. Soudah Park, in particular, offers hiking trails, zip-lining, and other adventure activities.
Why Rent a Car?
Navigating Saudi Arabia can be a bit challenging given its vast landscape. Public transport is limited, especially outside of major cities like Riyadh and Jeddah. Renting a car gives you the flexibility to explore at your own pace. Whether you want to drive along the scenic coast of the Red Sea or venture into the depths of the desert, a rented car can make your trip more comfortable and flexible.
How to Rent a Car
Bookingautos is an excellent choice for car rentals in Saudi Arabia. The website offers an array of options to fit every budget and travel need. Booking is simple, with transparent pricing and no hidden fees.
🚗 Rent a car in Saudi Arabia with Bookingautos
So, pack your bags and get ready to explore the wonders of Saudi Arabia. With a rented car, you have the freedom to experience all that this captivating country has to offer.

Amelia Earhart is a passionate writer and the founder of Technomaniax. I loves to write principally about technology trends. At Technomaniax.com, I loves to share my opinion on what's happening in tech around the world.