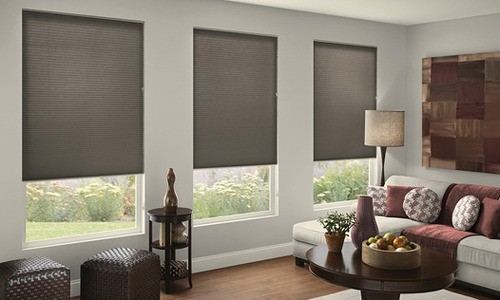 If you are looking to replace window treatments in a room or the whole house, we'd like to strongly suggest that you look at powered options. Why? Unpowered window coverings are mostly about style and, of course, some functions such as privacy and sun control. But when you add motorization, you unlock a whole set of other benefits."
These are the top features of Motorized Blinds
Control Natural Light
You want to take advantage of natural light for energy savings as well as its healthful benefits. But how many homes are often dark inside on a bright day because opening all the blinds is tedious? With motorization, you can control them all with a tap of a button on remote or smart control. Better yet, when you connect your blinds and shades to a home automation system, you can exponentially increase your ability to tune your environment.
Save Energy
With motorization, Motorised blinds or shades open throughout the day to let in just the right amount of light without heating up your home. In summer, your motorized blinds can automatically close and block the sun, creating a dark retreat from solar glare and heat gain. When combined with home automation, you can coordinate this behaviour with lights and climate control for measurable energy savings.
Enjoy Privacy and Security
With motorization, you open up many more possibilities to let the outside in when you want and keep it out when you don't. In the morning, your blinds can slowly open to gently wake you with morning light. When you leave your home, you can use a programmed "Away" setting that positions window treatments to keep any prying eyes out.
Experience Luxury
Not having to deal with drawing shades and drapes closed or open is a luxury, but combined with other smart automation, it brings the valuable benefits we described above. Beyond wellness, security, and energy savings, motorized window treatments will also be that extra luxury feature to differentiate your home when you decide to sell. And that can make the investment pay off all by itself!
They Protect Against Sun Damage
Motorized blinds can effectively protect your valuables by programming them to open and close at specific times. This makes motorized blinds a convenient option for homeowners dealing with many windows, especially ones that are located in hard-to-reach places.
They Offer Security
Get the best of both worlds! Motorized window treatments allow you to keep your home warm in the winter, cool in the summer, and save energy all year long. Programming these window treatments to operate at specific times can make it appear as though your home is occupied, even when you're at work or on vacation. This can deter burglars in search of easy prey.
They Offer Many Control Options
Motorized blinds can be controlled from anywhere in the room by a number of different methods, including a wall-mounted wireless switch, a phone app or remote control. It's advisable to have both a remote and a wall-mounted switch to allow everyone to adjust the blinds as and when needed. Additionally, there are apps you can download that are specifically designed to offer easy control.
Our Motorized Wooden Venetian Blinds offer the perfect blend of style and functionality. The wooden blinds are made of real wood, unlike other faux wood blinds on the market. These wooden Venetian blinds are a great addition to any home as they not only offer excellent insulation but also help reduce noise levels.