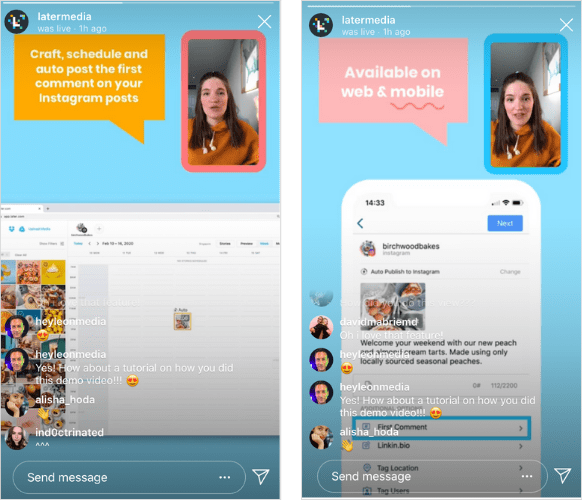 Who could miss one of the most used social media in 2021? Originally a specialist in sharing beautiful images, Instagram has become a giant virtual showcase accessible from all over the world. With the emergence of influencers, it stands out as one of the best tools for companies wishing to develop their notoriety on the web. In short, it has never been easier to expose your products to thousands of people and in such a short time. Not sure how to communicate on Instagram? Are you planning to create your company profile on this medium, or have you already taken the plunge? Faced with this platform, it is not always easy to get started. In this article, we reveal our top tips for a successful Instagram strategy.
Instagram strategy: 3 tips to stand out
1. Gain visibility by posting regularly
The number of publications (or posts) that appear on this network every day inundates users, and the law of the most recent generally takes precedence on social media. To stay visible, it is necessary to publish regularly, which will remind your future audience that you are there. Social media verification agency advise you to think about a post frequency, which must be at least 2 to 3 times a week. Be realistic about your ability to maintain this pace over time. The algorithm does not like irregularity, so it is counterproductive to post 2 posts a day for a week, then leave your profile dormant for 1 month, for example. After determining the ideal time to publish your content, you will need to be diligent.
2. Use all the features offered by Instagram
The platform constantly improves and renews the experience of its users. It, which originally offered the only possibility of publishing photos, now offers many features to attract more and more people. However, it is not without consideration. If you want to increase your visibility, you must use and abuse everything that Instagram offers you:
stories;
reels;
directs;
publications.
Vary the methods and do not hesitate to create stories every day to stay active.
We also advise you to use the carousel when creating a new post. This corresponds to a scroll of several images relevant to your writing. The time spent by your audience viewing these visuals is taken into account by the algorithm. You should know that this one presents the posts to a percentage of your subscribers (or followers). If they spend time on it and react to it, then it will show it to a wider audience.
3. Create quality content for your brand image
Who says company, says brand image. To stand out from the 200 million business accounts viewed daily on Instagram, you need to present quality content. What you offer to the public every day should be impactful and stand out from other similar accounts.
Build a feed (news feed) that catches the eye with pleasant and harmonious images. Combine it with catchy and well-constructed texts. The idea is to keep the reader on your publication, and to make him participate by asking him, for example, a question that he will want to answer directly.
Last important point: do some teasing! This means that you must arouse the curiosity of your readers and give them an appointment for your next posts.
You must not forget to integrate the human side into your Instagram strategy. And that's what we explain to you below.
Humanize your Instagram account: 5 tips for an engaged community
It is essential to build an engaged community. She is the one who will interact with you, and do free spontaneous publicity for your business, or even give your ideas. She will follow you every day and take a real interest in what you offer. She is also the one who will buy your products or services. In short: it keeps your business alive and growing. To achieve this, it is crucial to show that there is someone behind the name of your brand, and to arouse emotions. The following 5 tips will help you.
Use storytelling: having a common thread in your publications and your stories will fascinate your audience. Tell him a story of your life as the days go by. She will always want to know more and will follow you assiduously, because she will appreciate discovering your story and your personality.
Solicit interaction: interactions are important to Instagram's algorithm. Indeed, simply reading your articles is not enough. There are 4 possible reactions which are, in order of their power, shares, recordings, comments and likes. When you write your texts, think about what they will bring to readers and what will encourage them to share and/or save them. It is also strongly advised to ask a question at the end of these, to lead users to answer you in the comments.
Involve your followers: the story is the perfect tool to create playful exchanges. You can use it regularly to offer surveys, quizzes or ask questions. Take the opportunity to offer them new information about you, but also to get to know them. Plus, it's quite fun and interesting to post the answers you get.
Communicate directly: the human side of social media is precious. If you receive comments or private messages, Internet users will appreciate that you respond to them, if possible. You also have the opportunity to use live broadcasts to forge links with your community by exchanging live, which will have the benefit of strengthening its commitment.
Give importance to other accounts on the platform: follow, like, comment, in short, keep the network alive. You'll quickly notice that the more time you spend engaging with and interacting with other profiles, the more your visibility and community will grow.
Having an engaged community is important. Knowing it to offer it ever more relevant content is ideal! This is the advantage of the business account that we are now presenting to you.
How to communicate on Instagram? Relevant business mode tools
As an entrepreneur, we recommend that you switch your account to professional mode to improve your Instagram strategy, when it is created. This feature is free and full of useful information for communicating on the platform. You must go to your profile settings, then to the "Account" tab, and finally to "Change account type". You can opt for business mode. Once this action has been completed, we encourage you to use the following tools:
Analysis of statistics: the advantage of the professional mode is to be able to see the traffic generated by your profile. On your page, simply click on "Statistics" to access valuable information about your audience and the impact of your publications. This gives you access to the number of accounts affected or having interacted. You'll get the number of people who viewed each photo, story, or video, and set expectations for your audience. In addition, it is possible to quickly know the age group, gender and geographical location of your subscribers. You will also find there the times when they are active on the network.
Use of advertising and collaborations: Instagram allows the use of advertising to boost your profile. You will be able to determine the duration of the broadcast, the financial means you wish to invest in it, and thus reach a wider field of potential followers. This solution is very interesting to boost your visibility and quickly increase your number of subscribers, because your sponsored content will appear in the feeds of many users and encourage them to follow you. It is also possible to use collaboration. Thousands of influencers can promote your products for a fee and have a very positive impact on your business.
Programming of publications: working on your presence on the networks takes time. This is why we advise you to turn to planning tools. There are many on the web that are very easy to use to allow you to establish an editorial schedule, and save precious minutes for the pure management of your business. Among a large choice, Agora pulse, Buffer or Later offer several relevant and appropriate means to your needs. All you need to do is plan a few hours each month, for example, to gather your ideas, create your posts and configure them. You will then let your chosen tool work for you over the next few weeks. These solutions will be allies of your content strategy.
Now you know how to communicate on Instagram. It's a wonderful tool to develop your e-reputation and grow your audience, provided you use it well. It requires investment to prove that you deserve your visibility and to make it evolve favorably. When it is established, you will then be able to retain your customers. You will also make wonderful discoveries and great human encounters, which will be very beneficial to your business. Now that you have the keys to get started, nothing can stop you in your Instagram strategy.