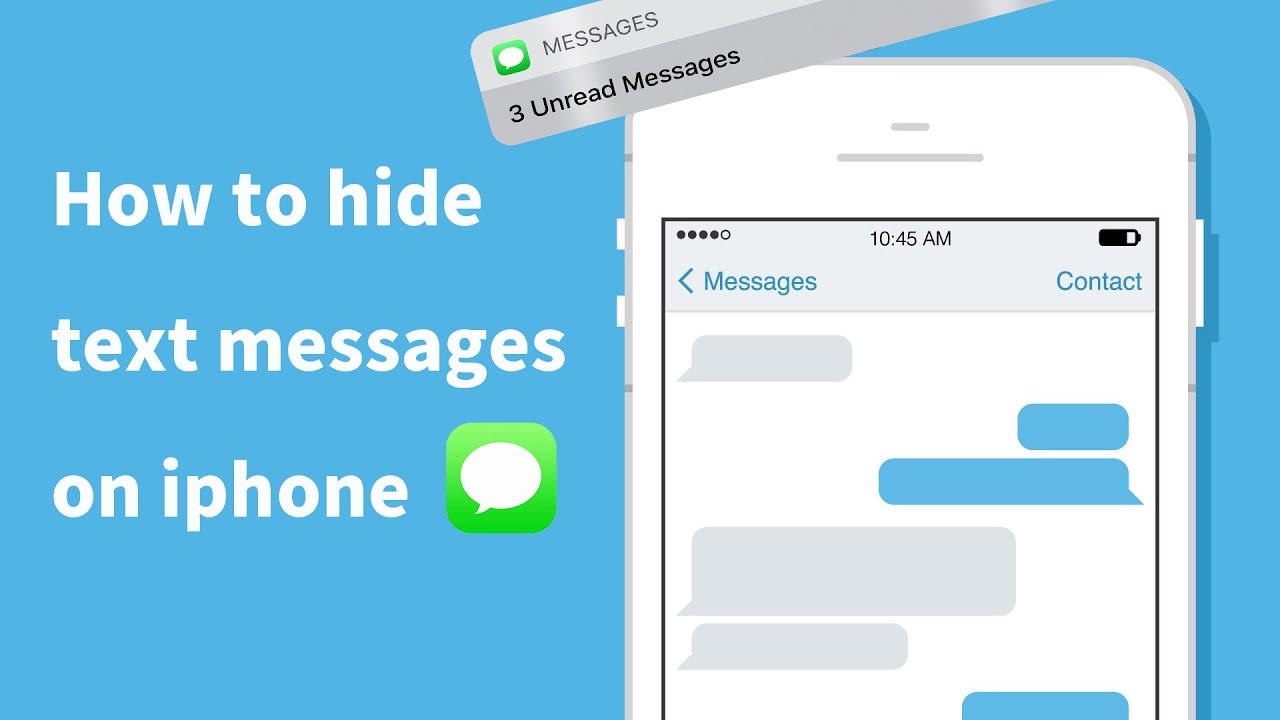 We walk you through exactly how to hide messages on your iPhone so that you can keep your conversations private from all those peeping eyes: and click to link How to Hide Messages on iPhone: Your Perfect Guide; Dagwoo
How to lock an iPhone to prevent snooping
RD.COM, GETTY IMAGES (2)
The first step to ensuring your text messages aren't easily accessible to be read by others is keeping your phone locked whenever it's not in use. "An iPhone will automatically lock the screen after 30 seconds by default," explains Ray Walsh, digital privacy expert at ProPrivacy, who also points out that the length of time can be extended if the user wishes. To do so:
Step 1: Head to Settings.
Step 2: Go to Display & Brightness.
Step 3: Go to Auto-Lock. From there you can choose your time frame for Auto-Lock to turn on from 30 seconds to five minutes.
Alternatively, you can lock the device manually by pressing the Sleep/Wake button. "This will turn off the device and necessitate the entry of the passcode or fingerprint scan in order to use the device," Walsh explains. Those with an iPhone X or newer may also set up Face ID in lieu of a passcode or fingerprint scan if they prefer.
Hiding notifications and alerts on an iPhone
RD.COM, GETTY IMAGES (2)
Unfortunately, even while locked, notifications can sometimes give your private information away. "If you don't want anybody to snoop on you via the lock screen of your iPhone, you must turn off all lock screen notifications," Walsh says.
Here's how to do that:
Step 1: Head to Settings
Step 2: Go to Notifications
Step 3: Select the app(s) you want to hide notifications from
Step 4: Toggle Allow Notifications to the off position. You may see a listing of three different alert types (Lock Screen, Notification Center, and Banners), click Lock Screen
"To prevent all notifications from occurring on the lock screen, you must do this for each and every app on your device," says Walsh. To turn off alerts for text messages, you'll want to follow these steps for Messages.
Hiding text message alerts on an iPhone
RD.COM, GETTY IMAGES (2)
To prevent notifications from all apps appearing on your locked screen:
Step 1: Head to Settings
Step 2: Go to Notifications
Step 3: Tap Show Previews
Step 4: Select Never
To do this specifically for message alerts:
Step 1: Navigate to Settings
Step 2: Go to Messages
Step 3: Select Notifications
Step 4: Tap Show Previews and then select Never. Note that the default for iPhones is Always.
If you've ever wanted to hide apps on your iPhone, we've got instructions for that as well.
Hiding specific contacts or conversations on an iPhone
RD.COM, GETTY IMAGES (2)
In the event that you don't want to hide all your alerts or notifications, but rather those from a specific contact or text chain, that's a possibility as well. Walsh shares these steps to block a single SMS message thread rather than all message notifications:
Step 1: Click on the message you want to block
Step 2: Tap the contact's name at the top of the message to open the taskbar
Step 3: Toggle Hide Alerts to the on position
Also Read: Logitech g433 gaming headset
Using hidden messaging apps on iPhone
"To ensure that your messages are completely private, you will need to leverage a third-party messenger that has strong end-to-end encryption," Walsh says, adding that this is the only way to guarantee those messages reside only on the sender's and recipient's devices.
"Encrypted messaging apps use end-to-end encryption to ensure that all communication between the sender and the recipient are 100 percent private," Walsh explains. "This ensures that the messages never reside server-side, where they could be accessed by the service provider, hackers, or government using a warrant."
Examples of hidden messaging apps include Signal, Private Message Box, and CoverMe. "Signal is a secure messenger with strong end-to-end encryption for sending private messages," Walsh says. "It is a highly trusted app which leverages well-known encryption to ensure that the messages are completely secure."
Of course, you should always be careful about anything you add to your phone as you always need to be on the alert for these top mobile security threats. Next, learn how to see (and delete) your iPhone call history.