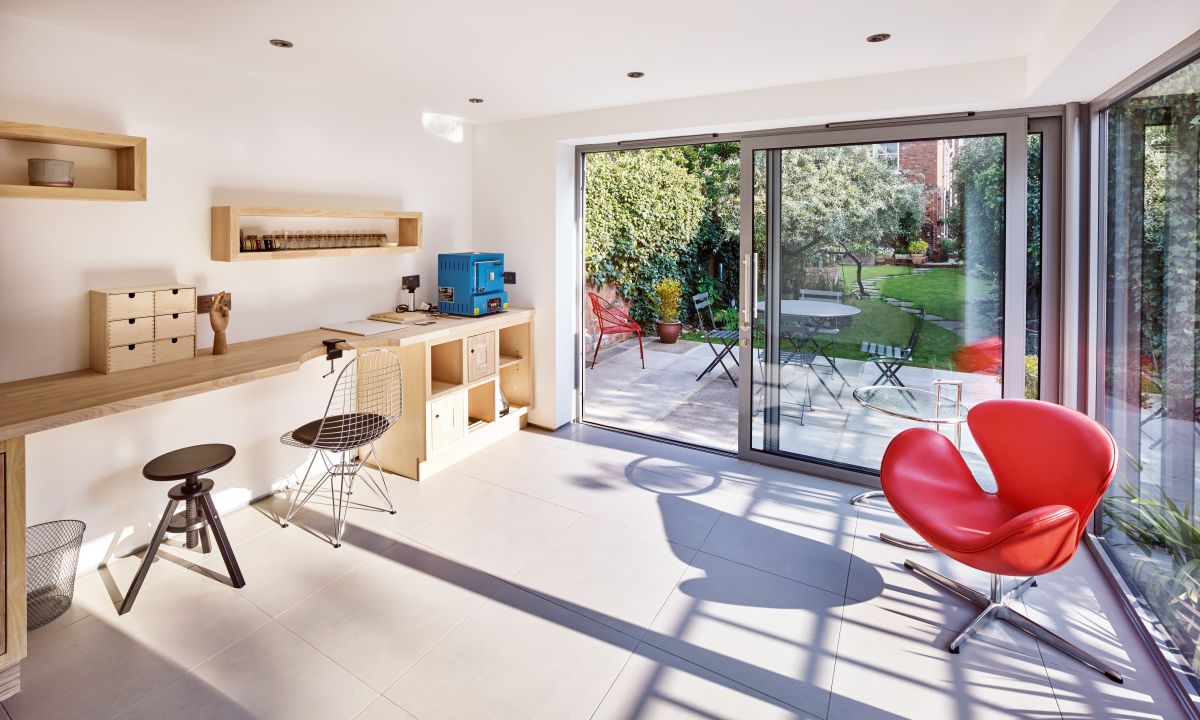 Have you ever wanted to turn your garage into a functional part of your home? Now, it's easier than ever before with these 8 simple steps to transform your garage into a kitchen extension. Learn how you can make the most of the unused space in your home and create a more spacious and enjoyable area to cook, eat, and entertain.
Introduction to Garage Conversion
If you're looking to add an extra room to your home without the hassle and expense of a traditional home extension, a Garage conversion could be the perfect solution. By converting your unused garage into a kitchen extension, you can create an additional living space that's both functional and stylish.
Garage conversions are relatively simple and straightforward, and can usually be completed in just a few weeks. However, there are a few things to consider before starting your project, such as whether or not your garage is structurally sound and whether or not you have the necessary permissions from your local council.
Once you've sorted out the practicalities, it's time to start planning your new kitchen extension. Think about how you want to use the space and what kind of style you want to create. If you're short on ideas, take a look at some inspiring kitchen extensions online or in design magazines for some inspiration.
Once you have a clear vision for your new Kitchen extension, it's time to get started on the conversion itself. Begin by removing any unwanted items from your garage and giving it a good clean. If there's any damage to the walls or floor, now is the time to repair it before proceeding.
Next, install insulation in your garage to help keep the noise and temperature down in your new kitchen extension. Then, add plasterboard to the walls and ceiling and tape up any joints. Now you're ready to start painting or wallpapering – choose a light
Benefits of Converting Your Garage Into a Kitchen Extension
If you are considering a kitchen extension, converting your garage into an extension could be a great option. There are many benefits to this option, including:
1. Increased space – One of the main benefits of converting your garage into a kitchen extension is that it will provide you with more space. This is especially beneficial if your current kitchen is small or cramped.
2. Natural light – Another benefit of this conversion is that it can help to brighten up your kitchen with natural light. This is due to the fact that most garages have windows, which can let in plenty of sunlight during the day.
3. Cost-effective – Converting your garage into a kitchen extension can also be more cost-effective than other methods of extending your home, such as building an entirely new extension. This is because you will not need to pay for any new foundations or walls to be built.
4. flexibility – When you convert your garage into a kitchen extension, you have more flexibility when it comes to the layout and design of your new kitchen. For example, you could choose to install an island unit or open up the space to create a more spacious feel.
Planning & Design Considerations for Your Kitchen Extension
When planning a kitchen extension, there are a few key design considerations to keep in mind to ensure the space is both functional and stylish. Firstly, consider the layout of the room and how best to utilise the space. If you have a small kitchen, you may want to consider an open-plan layout to make the most of the available space. Alternatively, if you have a large kitchen, you may want to include additional features such as a breakfast bar or island unit. Oakland
Next, think about the style of your kitchen extension. Do you want it to blend in with the existing style of your home, or do you want it to be a more statement piece? If opting for the latter, consider making use of bold colours or patterns on walls or floors, or using unusual materials for surfaces and fittings. Finally, don't forget practical considerations such as lighting and ventilation – ensure there is plenty of both to create a comfortable and inviting space.
Creating an Open Plan Living Space Through Knock-throughs
If you're looking to create an open plan living space, knock-throughs are a great way to do it. By knocking down walls between rooms, you can create a much more spacious and open feel in your home. Here are some simple steps to follow if you're considering doing knock-throughs in your own home:
1. Decide which walls you want to remove. This is the first and most important step in the process. You'll need to carefully consider which walls you want to remove in order to create the best possible layout for your new open plan living space.
2. Get professional help. Once you've decided which walls you want to remove, it's time to get some professional help. Knock-throughs can be a bit tricky, so it's always best to have someone with experience handle the job for you.
3. Prepare for the worst. Unfortunately, not all knock-throughs go as planned. There's always a chance that something could go wrong during the demolition process, so it's important to be prepared for the worst case scenario. Make sure you have plenty of protective coverings for your floors and furniture just in case any debris comes flying through the air during the demolition process.
4. Enjoy your new space! Once the knock-throughs are complete, enjoy your new and improved living space!
Important Building Regulations and Planning Permissions
In order to carry out any building work on your home, you will need to ensure that you comply with all the relevant building regulations and planning permission requirements. This is especially important when it comes to garage conversions, as there are a few extra things to consider.
Building regulations exist to ensure that all buildings are constructed safely and meet certain minimum standards. You will need to obtain approval for your garage conversion from your local building authority before you can start any work.
It is also worth noting that any structural changes to your garage will require planning permission from your local council. This includes things like removing internal walls or enlarging doorways and windows.
If you are unsure about anything, it is always best to seek professional advice before proceeding with any work. A qualified builder or architect will be able to advise you on the best way to proceed with your garage conversion and help ensure that everything meets the necessary regulations.
Preparing the Garage for the Conversion Process
When it comes to converting your garage into a kitchen extension, the first thing you need to do is prepare the space. This means clearing out any clutter, removing any existing shelving or storage units, and giving the space a good deep clean. Once the garage is empty and clean, you can then start to measure up and plan the layout of your new kitchen extension.
If you're planning on doing any major construction work, such as knocking through walls to create an open-plan kitchen, then you'll also need to factor in the cost of hiring professional contractors. However, even if you're just adding some new cabinets and appliances, it's still worth getting some quotes from local tradespeople to get an idea of how much the project will cost.
Once you've got a budget in mind and a rough idea of what you want your kitchen extension to look like, it's time to start making some decisions about materials and finishes. Do you want sleek, modern cabinets or more traditional Shaker-style units? What kind of worktop will best suit your needs? And what sort of flooring will best withstand spills and splashes?
By taking the time to think about these things in advance, you can make sure that your finished kitchen extension is exactly what you've been dreaming of.
Step by Step Guide to the Conversion Process
Converting your garage into a kitchen extension is a great way to add value to your home. It can also be a very cost-effective way to increase the size of your living space. The process is relatively simple and can be completed in just a few steps.
1. Step One: Planning and Preparation
The first step is to plan and prepare for the conversion. This includes obtaining any necessary permits or approvals from your local planning authority. You will also need to make sure that the garage is structurally sound and that there is adequate ventilation and lighting. Once you have all the necessary approvals, you can start to prepare the space for the conversion.
2. Step Two: Demolition and Removal
The next step is to demolition and remove any existing partitions or walls in the garage. This will create more space for the kitchen extension. If there are any electrical or plumbing fixtures in the way, they will need to be moved orRemoved at this stage.
3. Step Three: Insulation and Soundproofing
Once the demolition work is complete, you can start to insulate and soundproof the space. This will help to keep the noise from the kitchen extension from disturbing your neighbours. You should also install any new electrical wiring or plumbing at this stage.
4. Step Four: Finishing Touches
The final step is to add any finishing touches, such as painting, tiling, flooring, lighting, cabinets,
Adding the Finishing Touches to Your Kitchen Extension
Once you have your new kitchen extension, it's time to add the finishing touches! Here are a few ideas to get you started:
– Paint or wallpaper the walls in a light, bright color to make the space feel bigger and more open.
– Hang some pretty kitchen towels and utensils on the walls for decoration.
– Add some potted plants or flowers to inject some life into the room.
– Invest in some new appliances and cookware to really make it feel like a proper kitchen.
– Finally, don't forget to add some personal touches like photos or artwork.
Conclusion
Transforming your garage into a kitchen extension is easier than you think! By following the 8 simple steps outlined in this article, you can create a beautiful, functional space that will be perfect for entertaining and cooking. With careful planning and preparation, you can easily turn your unused garage into an amazing new area of your home that will serve as an excellent spot for family gatherings or just relaxing. Don't forget to consult the city codes to ensure all renovations are done according to their regulations. Good luck with transforming your garage!

Amelia Earhart is a passionate writer and the founder of Technomaniax. I loves to write principally about technology trends. At Technomaniax.com, I loves to share my opinion on what's happening in tech around the world.