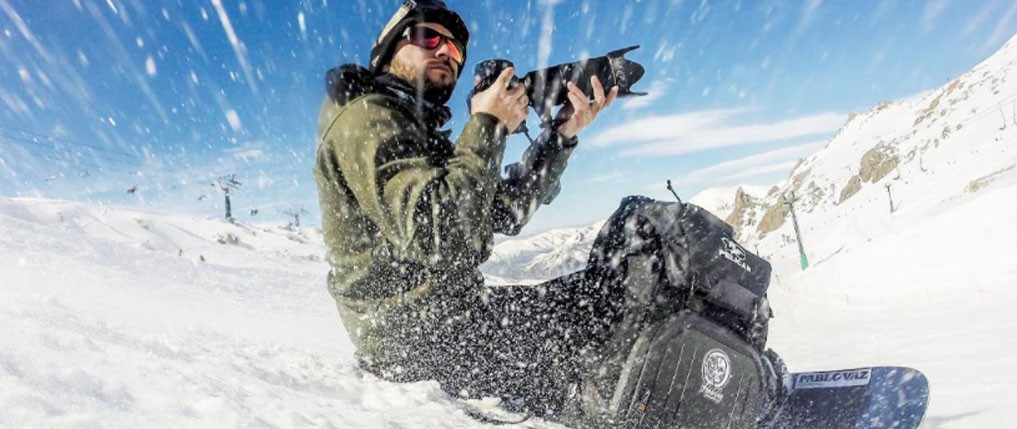 How to Travel with photography equipment doesn't have to be stressful. Planning a trip out west to capture beautiful panoramas of the landscape? Or want to capture all the fun activities with the kids on your family vacation? As long as you know how to pack your camera and gear securely so it's protected and remember to bring all the accessories, you can bring back stunning images and memories. Here is how to travel with camera equipment worry-free.
Camera Backpacks vs. Hard Cases
One of the most important considerations to make is whether you plan to check your camera or carry it on board the cabin. This will help you determine what kind of travel case to get for your camera. Some photographers prefer to travel light and avoid checking luggage, while others might need to transport lots of equipment, requiring more than one travel case.
Not sure how to decide? Here are some considerations:
Camera Backpacks
Want to bring camera equipment in check-on luggage? Then you need to consider how much room you are allowed. The case will need to fit in your overhead bin or under the seat in front of you. For this, a camera backpack is a perfect option. Each Pelican camera backpack is conveniently sized to slip directly under a seat. Plus, it offers TSA-ready access and a crushproof, watertight case for protecting gear once you arrive at your destination for your adventure. Not to mention, with a floating ergonomic strap design and ventilated back panel, it can be transported easily, even across rocky terrain.
Hard Cases
On the other hand, if you decide that your camera equipment needs to be checked, camera hard cases are recommended. This kind of rugged case can take on whatever the airline throws at it — and then some! For smaller cases, you could choose to slip it directly inside your luggage. However, Pelican camera hard cases come with extra features like lockable stainless steel hasps for extra security and a retractable extension handle, and heavy-duty wheels that make getting around much easier.
Whether you choose to check on or check-in, you don't want to simply stuff an expensive camera and photography equipment inside luggage surrounded by only your clothes and toiletries. This is a disaster waiting to happen. All your delicate accessories — lenses, flashes, and the like — should be placed into padded protection inside your camera backpack or camera hard case. Luckily, Pelican offers all sorts of options to keep your sensitive accessories secured your entire trip.
Many hard cases offer two-in-one protection with a detachable computer sleeve and accessories pouch. Our hard cases even offer pick-and-pluck foam to customize the interior to the exact shape of your lens, camera, and more.
Our backpacks also offer large-sized padded divider compartments that can hold lenses, flashes, and more. They even offer large side pockets and air mesh lid organizers, as well as quick-clip side straps to keep a full-sized tripod.
The only accessory you should be mindful of is batteries. Remember to remove large lithium-ion batteries from the camera and any equipment you have. TSA offers a breakdown of rules for all kinds of batteries that apply to check-in and carry-on luggage.
Also Read: Everything You Need To Know About AWS Tie
Remember Your Memory Cards
With so much effort put into packing your camera so it's nice and secure for its flight across the country, you might forget the smaller things — like packing your memory cards. To prevent this mishap, create some kind of reminder for yourself, like a camera equipment packing list.
Another ingenious, practical way to remember your memory cards (and batteries, too!) is to leave open any hatches, doors, or plastic lids where they are inserted. This way, you can't pack them away without closing it and realizing you have yet to pack your smaller gear, too.
Keep Your Bag or Case on You at All Times
This goes without saying and seems like common sense, but: As you travel with expensive camera equipment, never leave your camera bag or camera case unattended. More than likely, the value of your equipment far exceeds the airline's limit of liability. While it's always a good idea to get insurance for professional photography equipment, it isn't convenient to replace it and can ruin your trip even further.
Have Patience and Pack Ahead of Time
Air travel is stressful enough, but traveling with expensive, professional equipment requires a certain level of patience and awareness. So be sure to pack your camera equipment properly, relieving any worry of damage, and arrive at the airport with time to spare.