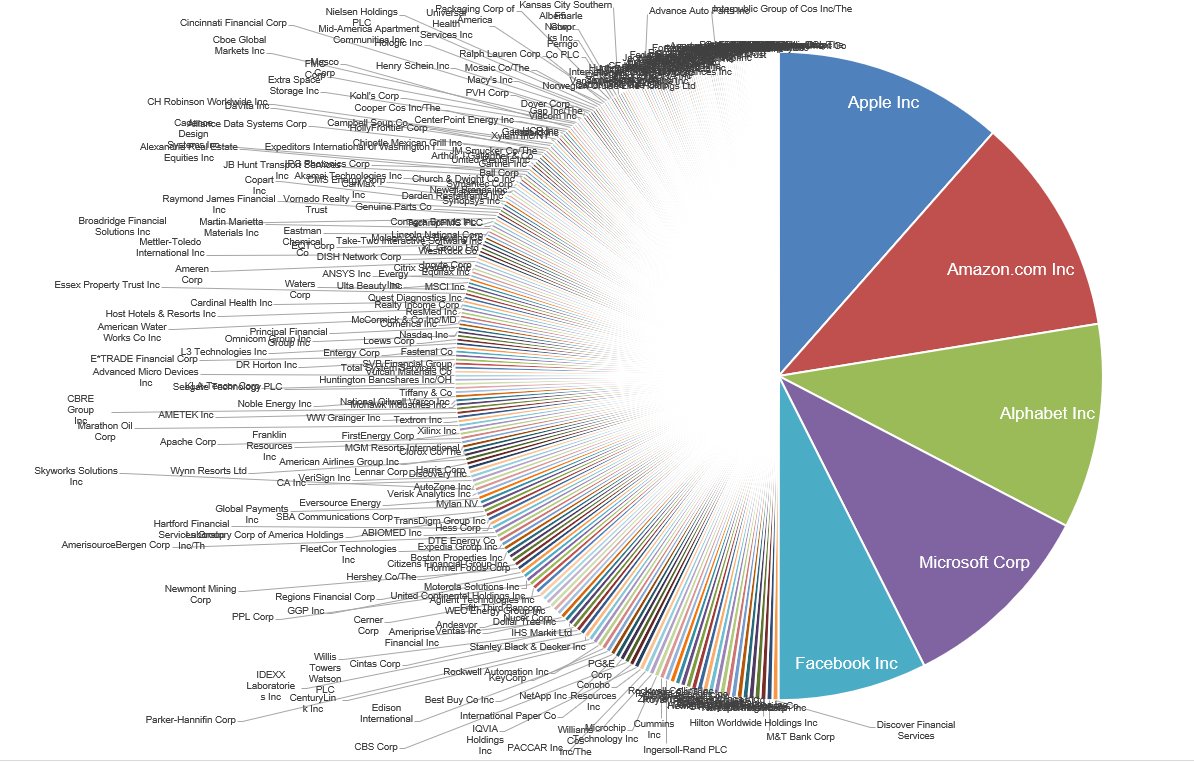 According to statistics, the technology sector accounts for 35% of the total market. And it's growing steadily: the estimated growth rate is 5.3% this year. More than 500,000 tech companies are in the United States alone, and more than 6,600 are in Silicon Valley.
Almost every company — no matter what industry they're in — depends on technology companies in some way. It includes hardware, software, online services/tools, and cyber security solutions…
Biggest Companies in 2022
When technology companies launch a new product:
For this article, I looked at Forbes' Global 2000, an annual ranking of public companies based on 4 metrics (sales, assets, profitability, and market value).
Here are the biggest tech companies of 2022
#1: Amazon
Popular Products: Amazon Store, Amazon Prime, Amazon Web Services (AWS), Alexa
Market cap: $1,468.4B
Workforce Size: 1,608,000
One of the most valuable companies in the world, Amazon was founded in 1994 by Jeff Bezos.
Initially an online marketplace, the company manufactured its own technology devices and over time started offering cloud services. Ranked the 6th largest company in the world by Forbes, it is listed in the top 25 tech and IT companies to work for!
#2: Apple
Popular products: iPhone, the iPad
Market cap: $2,640.32B
Workforce Size: 1,608,000
Apple, another tech giant on our list, isn't too surprising.
Specializing in electronics, software, and online services, Apple's annual revenue last year was $365.817B in 2021.
The company was founded in 1976 by Steve Jobs, Steve Wozniak and Ronald Wayne. Since then, Apple has been manufacturing a variety of technological devices, from computers to wearables.
Apple was one of the most popular tech companies in the industry when I was a kid, and it still is, and that doesn't seem likely to change in the near future.
#3: Alphabet Inc.
Popular products: Android, Google, YouTube
Market cap: $1,581.72B
Workforce Size: 156,500
Alphabet is a multinational conglomerate with annual revenue of $257.637B in 2021.
After Google's restructuring in 2015, Alphabet Inc. was established and became the parent company of Google Businesses.
The company invests in various start-ups and enterprises of various sizes in the technology sector: smart home projects, self-driving cars, cloud-gaming systems, and more.
2022 Big Companies Alphabet Inc.
#4: Microsoft
Popular Products: Microsoft, MS Office, Microsoft Teams, Visual Studio
Market cap: $2,054.37B
Workforce size: 221,000
Founded in 1975 by Bill Gates and Paul Allen, Microsoft is another technology company emerging from America.
It develops consumer electronics and computer software, as well as provides related solutions.
One of the best products of Microsoft, MS Office has become an indispensable part of our lives. Spreadsheets, presentations, meeting notes… you're ready for any meeting at any time with office tools.
➡️ Also; LinkedIn, Skype, and GitHub may be listed among the company's affiliates.
#5: The Samsung Group
Popular Products: Phones, TVs, and other tech devices
Market value: $367.26B
Founded in 1969 in South Korea, Samsung Electronics operates through business divisions that manufacture and sell a wide range of electronics and software.
These are consumer electronics, information technology, and mobile communications and device solutions.
Samsung Electronics doesn't just make televisions, E-commerce phones, and wearables; It also has smart home and digital health initiatives.
The biggest tech companies are Samsung
#6: Ten cent Holdings
Popular Products: WeChat, PUBG Mobile, QQ
Market cap: $414.28B
Workforce Size: 85,858 (2020 data)
Ten cent Holdings is a Chinese technology company founded 23 years ago. It is the first Asian tech company to cross the $500B mark.
Its services include websites, e-commerce sites, payment systems, social networks and mobile games.
The holding group includes Ten cent Music and Ten cent Games, the largest company in the video game industry.
Ten cent's most popular communication tool, WeChat, has 1.2 billion monthly active users. Its sibling app QQ has 564 million monthly active users contains
The company also offers marketing solutions and cloud services. "Ten cent is dedicated to being a digital enabler," they say. With their digital services and technologies, they aim to help every sector.
Ten cent Holdings is one of the largest technology companies
#7: Meta platforms
Popular products: Facebook, Instagram, WhatsApp
Market cap: $499.86B
Workforce Size: 83,553
Launched in 2004 by Mark Zuckerberg to connect Harvard students with each other, Facebook was an instant success. Opened for public use within 2 years. In 2010, more than 400 million people used it monthly.
In 2021, Facebook Inc. It changed its name to Meta Platforms to emphasize its met wares orientation. Virtual/augmented reality is the future, and Meta says it's helping people be there.
Meta Biggest Tech Companies 2022
In addition to their own products focused on the Met averse and Web3, such as MapQuest, The Company acquired several subsidiaries, including Navy Financial, Hot Studio, and WhatsApp.
#8: Cisco Systems
Popular Products: Cisco ONE, Cisco DNA, Cisco+
Market value: $213.36B
Born out of the difficulties of a husband and wife working at Stanford to communicate within the company, Cisco Systems is almost 40 years old today.
Headquartered in San Jose, Silicon Valley, Cisco is an IT and networking company specializing in routers, switches, and cybersecurity.
The cyber security unit is the most valuable and fastest-growing part of the company. In the last quarter, according to the company's data, its revenue increased by 14%.
With Cisco Secure; You can detect, respond and recover quickly from cyber attacks. It's a unified platform that can be used across multiple products, meaning you can protect your applications, users, endpoints, and network from a single platform.
Cisco Biggest Tech Companies 2022
➡️ A fun fact about the top facts company name: Cisco stands for San Francisco, and the vertical lines in the logo represent the Golden Gate Bridge 🌉
#9: Oracle Corporation
Popular Products: Oracle Cloud, Java, MySQL, Oracle Linux
Market cap: $203.34B
Oracle is an American computer software company. It was founded in California in 1977, but the corporate headquarters are now in Austin, Texas.
They have more than 400,000 customers worldwide, including FedEx, Xerox, and Siemens Healthiness, as they provide specific solutions for different industries.
You can manage your restaurant, modernize your finances, secure network infrastructure solutions, connect HR/product management/marketing, and increase customer satisfaction.
Biggest Tech Companies 2022 Oracle
Plus: Oracle regularly hosts developer events. From machine learning to image recognition, experts exchange ideas. You can view recordings of past events and register for upcoming recordings from here.
#10: Broadcom Inc.
Popular Products: Symantec Enterprise Cloud, Rally Software
Market cap: $239.64B
Workforce Size: 20,000
Yes, software companies are worth the whole world, and hardware companies are worth a lot too. But companies that offer both? They are completely different stones 💎
Broadcom has a diverse product portfolio, including both semiconductor and infrastructure software solutions.
With their innovative vision and collaboration, they have excelled more than once.
Introduced the first commercially available LED dot matrix display.
Created the first cable modem to provide Internet connectivity to cable TV providers.
Delivered the first high-speed digital opt couplers for use in hybrid and electric vehicles.
Introduced embedded fiber-optic solutions for IBM.
Launched the first 5G radio switch.
#11: SAP
Popular Products: SAP S/4HANA Cloud
Market cap: $124.02B
Workforce Size: 107,415
SAP is a leading software company that focuses on business management solutions such as data processing and information flow.
It was founded in 1972 in Wenham, Germany.
When they released SAP R/2 and SAP R/3 software, they set the global standard in terms of enterprise resource planning (ERP). Now they have SAP S/4HANA, the latest version of ERP software . It uses in-memory computing; Hence, it helps to process huge amount of data fast and smoothly.
SAP software collects and centralizes data, usually collected and analyzed separately for each department/group. This enables better visibility and interpretation of collected data while increasing productivity – and ultimately, profitability.
ERP software has tools and programs suitable for all teams: HR, sales, marketing, production…
And SAP has different solutions for companies of different sizes. A big corporate or a small company, it doesn't matter, you can get help from them!
Biggest Tech Companies 2022 Chap
#12: Accenture
Industry: Information Technology
Market cap: $196.86B
Workforce size: 710,000
It is not easy to be recognized and highlighted as a successful company by business magazines. But if there is one thing that is difficult, it is to be recognized and loved by those involved.
Accenture works with 89 of the Fortune 100 companies.
It is also listed as one of the best workplaces for innovators by FAST.
Now, who is this Accenture? Let's take a closer look at their services 👀
They offer a wide range of services. From AI and cloud services to marketing needs, security needs, services for data and analytics…
Also, Accenture helps clients understand the met averse and shape their business plans for the future. With a deep understanding of the industry and the future that awaits it, they accompany clients on their met wares journey.
"While we're in the early days of the met averse, ​​​​​​​​​​​​​​​​​​​​​​​​​​​​​​​​​​​​​​​​​​​​​​​​ and if companies don't operate now, they will find themselves operating in worlds designed by someone else.
– Paul DAUGHERTY, Group Chief Executive – Technology and Chief Technology Officer
PS Accenture leads a national technical training programmer.
#13: Salesforce
Popular products: Client 360, Slack
Market cap: $169.72B
Workforce Size: 73,541
Salesforce is the world's #1 Customer Relationship Management (CRM) platform. Founded in California in 1999, it quickly became one of the major technology companies.
It has acquired several companies including Slack, Hurok and Tableau Software.
Customer 360, an original product of Salesforce, is a platform that consolidates all the data and information about your company in one place. Sales team, customer support, marketers, product engineers… all teams, one workspace.
You can integrate different applications with Customer 360 for sales/marketing purposes, data analysis, etc. – in fact – the more you integrate, the better results you get.
Biggest Tech Companies 2022 Sales Team
#14: Adobe
Popular products: Adobe Acrobat, Adobe Photoshop, Adobe Creative Cloud
Market value: $193.1B
Staff size: +26,000
Founded in 1982, Adobe is an American software company that provides marketing and document management solutions and creative tools. The corporate headquarters is in San Jose, Silicon Valley.
The company provides services in 3 main categories:
Creative Cloud: Design and editing tools like InDesign, Photoshop, and Illustrator.
Experience Cloud: Services for marketing and customer experience such as manager screens, marketing optimization, real-time CDP and analytics.
Document Cloud: Document editing tools like Adobe Acrobat and Adobe Sign.
#15: Intuition
Popular products: QuickBooks, TurboTax, Mint
Market value: $125.37B
Workforce Size: 14,200
Intuit is a software company specializing in the financial sector.
Along with their own products, QuickBooks, TurboTax, and Mint, the company owns time management and scheduling app Sheets, Mail chimp, and Credit Karma, which used to be another financial company but is now a brand of Intuit.
Let's see what you can do with their products 🤔
TurboTax:
✔️ Work with a tax professional
✔️ Get your tax refund
Mint:
✔️ Manage all your accounts in one place
✔️ Track your cash flow (including bill payments!)
QuickBooks:
✔️ Track your income and expenses
✔️ Complete your payments
✔️ Organize your lines
Intuit is great Institute of Technology 2022
#16: Cap Gemini
Popular affiliates: Tess Ella, Solet
Market value: $35.59B
Workforce Size: 340,700
Cap Gemini is a French-American IT services and consulting firm. The corporate headquarters is in Paris, France.
They provide various solutions to companies such as business transformation, cyber security and enterprise management.
Also, they know that the needs of the industry are different. Cap Gemini follows every industry closely and makes recommendations based on their needs.
From Health to Media, Insurance to Travel, Banking to Automotive, and even Aerospace and Defense! You can trust them.
Cap Gemini Biggest Tech Companies 2022
#17: VMware
Popular products: VMware vSphere
Market cap: $45.55B
Workforce Size: 37,500
Founded in 1998, in Palo Alto, California, VMware is a cloud computing company.
It provides multiple cloud services for all applications. But what is multi-cloud?
Hybrid has become the new normal for most of us. No, I'm not talking about half-time office to half-time home-office shifts. I am talking about online workplaces, clouds. 73% of companies work with two or more cloud accounts. While the widespread use of cloud-based platforms and digital transformation is good news, they can also bring potential security risks and productivity issues.
That's where VMware comes into play:
➡️ It connects and secures data across data centers and clouds.
➡️ It uses infrastructure to secure applications.
➡️ It not only protects your applications but also helps you to improve and modernize them.
➡️ Finally, it improves the work experience of your employees. From now on anyone can work from anywhere!
VMware biggest tech companies 2022
#18: Uber Technologies Inc.
Popular products: Uber, Uber Eats
Market cap: $60.27B
Workforce Size: 29,300
One of the companies with the highest tech employment rate is Uber, mobility as a service company. It was founded in 2009 and quickly grew into one of the most successful startups of the last decade.
There are two main things you can do with Uber:
– You can meet your transportation needs
– or order from your favorite restaurants and have it delivered via Uber
Also, you can work as an Uber driver or a delivery person.
👉 Plus, as the world's largest movement and service platform, the company is aware of its responsibilities towards the environment. They will become an all-electric, zero-emission platform by the end of 2040.
Uber's biggest tech companies 2022
#19: Shopify
Industry: E-Commerce
Market value: $57.93B
Staff Size: +10,000
Shopify, which quickly emerged as a solution when its founders couldn't find an e-commerce platform that met the needs of their own business ventures, now serves millions of businesses around the world.
You can start your business, sell your products, plan your marketing campaigns and manage your finances from a single platform.
Shopify Biggest Tech Companies 2022
But it doesn't end with creating a page on Shopify. You must be on good terms with your customers, that is, you must welcome them.
#20: Zoom in on video interactions
Industry: Communication platform
Market cap: $29.96B
Workforce Size: 6,787
I am sure all of us have used or heard about Zoom at least once in our lives, especially during the Covid-19 pandemic.
But the company was founded in 2011 and is headquartered in San Jose, Silicon Valley. You can connect your hybrid workforce or get closer to your users and organize informative webinars. Zoom can easily integrate into all industries. Health, education, finance, software… if you work with people or target people, you're good to go.
Make Big Tech Companies Big 2022
#21: Summary
Industry: Electronic Design & Verification
Market value: $43.63B
Staff size: +16,000
Synopsys is an electronics design and software company that focuses primarily on silicon design and software security. Since its inception, it has installed many software and semiconductors such as Black Duck, Cynical and Easy Silicon Bought us.
If something is clever, you're likely to see the summary as well.
➡️ It is the world's #1 electronic design automation service
➡️ It has a wide silicon IP portfolio
➡️ And it is one of the leading companies when it comes to app security
#22: Atlas Sian
Popular products: Jira, Trello, Confluence
Market value: $62.18B
Employee Size: 8,813
Atlas Sian is an Australian software company that mainly develops tools for software developers, project teams, and managers. It was founded in 2002 and in 20 years, it could be in The Global 2000.
Read More from here.