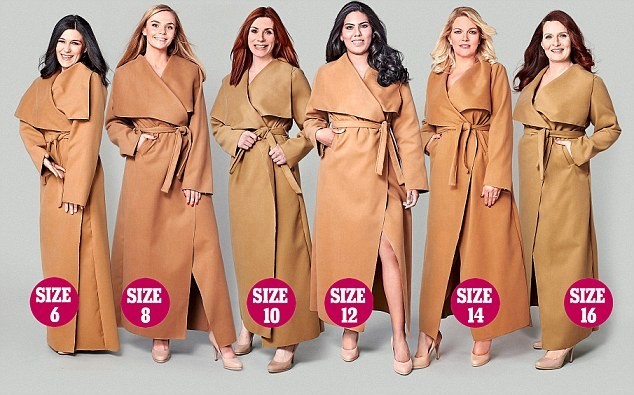 There are many concepts used to refer to sizes for all kinds of clothes such as free size, big size, and oversize. But do you know there is another special concept that is also used to indicate the size of clothes, which is one size (OS)? So what does one size fits all clothes mean? Follow us to explore more about how one size is used when applied to sewing clothes.
What size is one-size-fits-all?
"One size" is a phrase used to refer to clothes that are sewn in a single size. One size is not divided into small or large sizes, but they are clothes that are made in a spacious, comfortable form and suitable for almost any body shape. One size is also known as OS. Free size, one size, and size F are all the same concepts. All refer to clothes that are made in a certain size, allowing anyone to use the desired outfit.
There are many people who think that One size is an oversized or big size. However, these are two different concepts. Big size is a type of shirt with a very large size, usually used for plus-sized people. If people with small bodies wear a big size shirt, it will create a feeling of entanglement, and discomfort, making the user look too small compared to the shirt being used.
>>See also: Women's Kimonos of Various Styles
Advantages of One-size-fits-all clothes
Comfort for the wearer
When making clothes with a single size, they are often designed with a spacious, comfortable size, helping the wearer always feel the most relaxed and comfortable.
Wide variety of outfits
One size not only applies to t-shirts, but this is also the size that can be used to make jackets, shirts, dresses, and suits…
Save a lot of money
It's not necessary to shop for clothes in different sizes, so you will save more money by just buying one size outfit. Because this is a type of clothing that can be used in many places, and in many different situations.
Covers many flaws of the body:
For those of you who are too thin, or too fat, the use of one-size clothing will cover these defects on the body. With a comfortable size, the outfit will help you slimmer and become more round. Or for those of you with a plus-sized body, using comfortable clothes will not make your body too tight.
Create trendy outfits
If in the past people liked to use clothes that hugged the body to show off their beautiful curves, today young people prefer to wear more comfortable clothes. They help the users feel more confident and also create more modern, stylish fashion trends.
Selection of One-size-fits-all clothes
T-shirt: One-size t-shirts are a very popular designed and manufactured item recently. One-size t-shirts are not only used by boys, but girls also love this comfortable size shirt. One-size t-shirts are usually made with short sleeves and low shoulders. The bottom of the shirt is usually wider than the standard size, this width will not follow any rules.
Shirt: One-size shirts are increasingly used in the workplace. A one-size-fits-all shirt will help people work more comfortably, not making the wearer feel stuffy or tired when having to go through a stressful working day.
Coat: Jackets are a special type of clothing that must be loosely and comfortably made. Especially the sun jackets, often sewn in one size so that anyone can use them. Except for those of you who have a tall body, you can use a big-size jacket. Some types of one-size-fits-all jackets are bomber jackets, parachute jackets, wind jackets, etc.
Dresses: One size dress will be made in loose form. Slim-fit dresses will be sewn at the waist with a comfortable stretch. This type of dress can be used to go out, go for a walk, go to work, or travel.
Hoodie: This is known to be an outfit that many young people love. Instead of sewing with many different sizes, hoodies are commonly manufactured with 2 common sizes: one size and oversize. Young people like to wear loosely, not tight hoodies, this is the reason that these items are made in these two sizes.
Pants: Not only shirts, but pants also apply one size, to help anyone can use it in the most convenient way. Sports pants or sporty chic style clothes can be worn this way. Refer to Brandy Melville pant size chart, you will know how one-size pants look like. One-size pants are usually sewn in the style of a loose bottom, a loose tube and the waistband has the ability to stretch.
One-size-fits-all Brandy Melville
In recent years, Brandy Melville's recognition among young people has increased globally, making it one of the most well-known brands. For girls, Brandy Melville primarily offers one-size-fits-all clothes. Brandy Melville uses a lot of motifs from Los Angeles. Look at this comprehensive Brandy Melville size chart, to determine your best fits.
During the company's rapid climb to fame, customers started to express their displeasure with Brandy Melville's products due to its "one-size-fits-most" concept. Their clothing is made to suit a 25-inch waist and a 32-inch bust, which are not measurements that the majority of their female customers typically have. The company has therefore begun to provide larger sizes, referred to as "oversized," mainly in outerwear like sweaters, hoodies, and jackets.
Despite the fact that Brandy Melville's clothing is stylish, it is only offered in one size, and the designs are short and tight. This is despite the fact that their tagline is "one size fits most." Many people think it is only for thin women. The phrase "one size fits all" typically is used in the wrong way in this situation. 
Conclusion
After all, through the above information, we can summarize that one-size-fits-all clothes are applicable to have comfortable-sized clothes, suited with many different body shapes. They are designs of clothing that are suitable for many ages and help create a new fashion trend. To get tons of discounts on clothing, don't forget to follow us and FindCouponHere. We hope with our information, you can choose your best outfits.